Every business is unique and has distinctive needs.
Team as a Service.
&amp will amplify your business with a dedicated development team to build your desired product incrementally. We empower our customers with creative, highly motivated, results-driven teams that have the capabilities and the experience to deliver.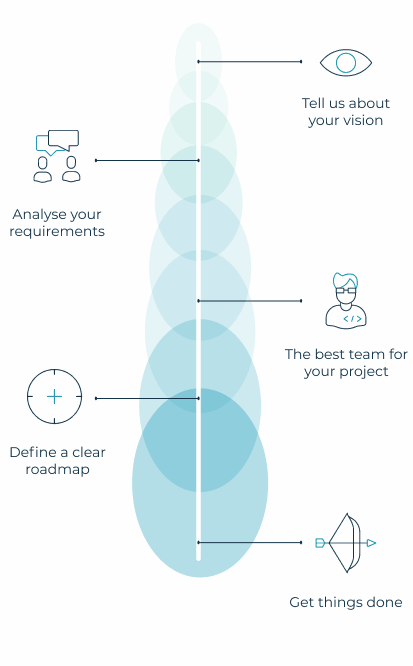 Why &amp.
1
Tell us about your vision
challenge the status quo
We always love to hear about great visions and exciting projects. As a first step, we are happy to learn more about your project, goals, and what's important to you.
2
Analyze your requirements
custom-made solutions
Product development is not a one-size-fits-all process. Every project has its own needs and challenges. One of our lead engineers will analyze the requirements and challenges of your project.
3
Get the best team
curious, open-minded, focused
We at &amp are curious, open-minded people with a passion for innovation. Since new technologies are constantly emerging and improving, we frequently take our time, learn, train, and make certificates for state-of-the-art software development processes and tools. We help you to challenge the status quo and are not afraid of thinking outside the box.
4
Define a clear roadmap
focus on the why
Everyone needs a purpose, right? Doing anything without a purpose is simply demotivating. We aim for a clear vision and clear strategy when we start a new project. A clearly defined roadmap that everyone can understand is crucial for the success of the project. With a deep understanding of what to build and why we build it, we can focus on delivering the desired product.
5
Get things done
no matter the stage you're in, we've got you covered
Waterfall? Agile? Wagile? Scrum? Kanban? Scrumban? We've all been there. There isn't a single methodology that you can apply across all projects. We prefer agile software development practices. In this way, we can react to changes and uncertainty throughout the software development cycle and deliver the desired product as quickly as possible.
Ready to start your project?
We love to hear about new ideas.
Especially yours. Why don't we just have a chat about your project?
Let's talk